Community Call is dedicated to building equitable, safe and successful communities in Boston by providing pathways for disadvantaged youth to become self-sufficient, valued, and productive members of their communities through civic engagement. Our vision is One Boston through community collaboration and engagement to maximize opportunities and positive outcomes for Boston youth.
​
---

"It has been an inspiring experience to sit with groups of students and hear their ideas, pitches, and dreams about making events that will positively influence their peers. Through Community Call, students are able to find their voice, follow their passions, and discover the success that comes from seeing a project through to the end, a skill that will benefit them significantly in their future educational and professional endeavors." Shari Davis - Director, Boston Mayor's Youth Engagement & Employment Office

---

Awards & Recognition:
- Boston City Council 2015 Recognition for Outstanding Work with Boston Youth
​- Harvard Allston Partnership Fund Awards 2015 Recognition by Harvard and the City of Boston for Community Work with Allston Students
- Boston Youth Services Network 2015 Community Champion

Community Call is proud to sponsor the Boston Homeless Youth Task Force (BHYTF) is a youth-led, youth-run outlet for youth ages 18-24 who are currently or formerly homeless to advocate, raise awareness, and create strategic solutions to end and prevent youth homelessness in the Greater Boston area. The BHYTF is sponsored by Community Call in collaboration with the Boston Youth Services Network (BSYN).

Click here for more information!

---

Click the links below for more information!

The Eugene Johnson Project - A Reality Check on
​Boston Youth Homelessness Video

---

YouthDoors

Provides Companies Options To Connect to Boston High School Youth And Open Doors of Opportunity...We Need Your Employees -

click here for info!

---

Youth WOKE (Working on Knowledge & Equality) Our student advocacy group addressing racial issues in the Boston Public Schools (BPS) and Community working independently but in collaboration with BPS Administration Find out more information here!

Community Call on BNN News below!

Boston's Chief of Health & Human Services, Felix Arroyo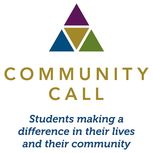 Community Call's mission is to develop life, leadership, and job readiness skills through civic engagement and empowerment for Boston high school at-risk and opportunity youth. Our student-centered approach provides personalized learning through student produced community events and projects on social issues that they choose to address. Students take ownership of their learning and their impact on the community by incorporating leadership, teamwork, innovation, and critical thinking skills. Our program brings together youth, businesses, educational institutions, nonprofits, and government partners to expand student learning outside the classroom to provide opportunities for life.
---